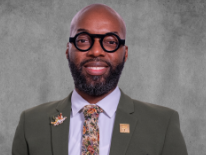 Robert L. Matthews is the Director of the DC Child and Family Services Agency (CFSA). He manages the District's child welfare and family strengthening system in this role. Previously, Director Matthews has served as the Deputy Director of Entry Services of CFSA and, most recently, Principal Deputy Director for the agency. A seasoned child welfare leader and manager, Director Matthews has more than two decades of experience within child- and family-serving organizations across the country.
During his tenure at CFSA, Director Matthews has led improvements in kinship care programming, child abuse, and neglect investigations, and community-based prevention services. Additionally, he is responsible for CFSA's Continuous Quality Improvement (CQI) practice known as "The Finish Line," which allowed the agency to meet the performance standards required to exit Federal Court oversight via the District's 32-year LaShawn A. v. Bowser class-action lawsuit.
Director Matthews' career began in Tennessee within the Department of Children's Services. He has held numerous roles within social services, including Assistant Commissioner of Adult and Family Services for the Tennessee Department of Human Services and Chief of Staff for Maryland's Social Services Administration. Much of his experience in national child welfare reform comes from his time with the Annie E. Casey Foundation. He provided consulting services for Ohio, Pennsylvania, Rhode Island, Connecticut, Tennessee, and Georgia jurisdictions. With a proven track record of success in leadership within child welfare, Director Matthews has presented his initiatives and practices at the Child Welfare League of America Conference, the National Family Foster Treatment Association Conference, and the Black Administrators on Child Welfare Conference.
Director Matthews received his Bachelor of Science in Social Science from Tennessee State University and holds a Master of Science in Public Administration from Cumberland University.