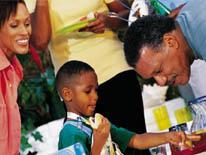 Welcome, CFSA foster parents.
This is the place where CFSA posts news and information, such as Family Link, to keep you informed and to support our partnership in serving children and youth. Watch this space for a growing list of materials.
CFSA has launched a new online portal for prospective and current Resource Parents starting February 6th. This portal will be a part of CFSA's new child welfare information system, called STAAND (Stronger Together Against Abuse and Neglect in DC).
This initial release of the portal will allow recruitment of new resource parents and provide an online process to be licensed and relicensed. More functionality will be available in upcoming months. Click here to learn more about STAAND.
Click here to access Course Storm - Child Welfare Training Academy's online training catalog where you can register any time, day or night.
For the latest foster parent news and updates, check out the most recent edition of Fostering Connections, CFSA's monthly resource parent newsletter.
If you have suggestions about the information or resources you would like to have available here, email CFSA.