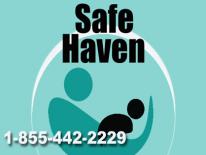 For District parents who cannot care for their newborns, help is available. Making a responsible choice gives the baby the chance for a good life. The District's Newborn Safe Haven Amendment Act of 2010 gives parents in crisis a responsible alternative to abandoning or discarding a newborn.
Any DC resident who is the parent of a newborn less than 14 days old may give the infant to workers at any hospital in DC, all of which are desigated safe havens. The surrendering parent does not have to give his or her name. The parent may provide a health history to help the baby, but doing so is optional. As long as the infant is unharmed, the parent will not face any legal consequences.
District residents who use a safe haven give up their rights as the baby's parent. Within a day of receiving an infant, hospitals transfer care to the DC Child and Family Services Agency. CFSA then provides foster care while seeking an adoptive home for the infant.
Since beginning in Texas in 1999, all state legislatures have enacted Baby Moses laws (infant safe haven laws) to address infant abandonment and infanticide. Safe haven laws generally allow a parent to remain anonymous and shielded from prosecution in exchange for surrendering an unharmed infant to a designated location.
Documents
Office Hours:
Monday to Friday 8:15 am to 4:45 pm