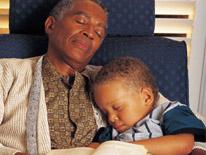 Grandparent Subsidy Program
Are you a District resident who's raising your grandchild, great-grandchild, great-niece, or great-nephew? You may qualify for the Grandparent Caregiver Program. It provides monthly financial assistance to help you care for the child related to and living with you.
Although the DC Child and Family Services Agency (CFSA) runs the program, it is only for people not involved in the child welfare system. To find out more, see the Fact Sheet below.
The CFSA building is currently closed to the public until May 15 or until such date as the Mayor determines that the District Government shall resume full operations. During this time, no in-person applications are being accepted. Applications are being accepted electronically or mail. For more information about the Grandparent Caregivers Program and how to apply, please see the links below. If you have questions about grandparent subsidies, send an email to [email protected] or call 202-442-6009.
To learn more about this program or to apply, go to the Kinship Navigator website: https://kinshipdc.org.
Office Hours:
Monday to Friday 8:15 am to 4:45 pm