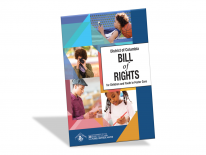 The District of Columbia Bill of Rights for Children and Youth in Foster Care ["Youth Bill of Rights (YBOR)" for short] embodies the view of foster care as a supportive, caring, and equitable experience for young people going through a difficult time. Advocates, legislators, CFSA, youth in care, and other stakeholders all articulated the rights, resulting in the Foster Youth Statement of Rights and Responsibilities Amendment Act (D.C. Law 19-276) taking effect in August 2015.
Every child and youth in District care gets a copy. Social workers give the document to all youth in care ages 14 and older and the guardian ad litem of younger children.
Click the attachments below to see printable versions in English and Spanish.
Links to actual rules in the District of Columbia Municipal Regulations (DCMR):