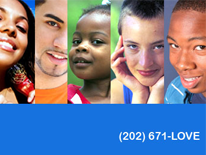 DC Families for DC Kids
Over 500 District children and teens are living outside their birth homes under the care of the public child welfare system. All these young people deserve to grow up with the security, guidance, and support only a family environment provides. What's more, they deserve to know their community cares. Yet nearly half of all District children and youth in care are placed in Maryland. We need more foster homes in the District to keep children in their community.
Make a Big Difference in a Young Life
Foster parents provide a safe, nurturing home for children and teens temporarily separated from their families through no fault of their own. Watch this video of the 2022 DC Foster Parents of the Year, who share the challenges and rewards of fostering in their own words. Foster parents have the opportunity to help children and families in our community in a very personal, meaningful, and lasting way.
It's Easy to Get Started
CFSA continuously recruits, trains, and licenses District residents to be foster parents. The first step is calling 202-671-LOVE (5683). A friendly, knowledgeable social worker will speak with you and answer your questions. CFSA has information sessions for prospective foster parents every two weeks. Why not invest a couple of hours exploring whether fostering is right for you? To be invited to an upcoming session, please give us a call. You can also visit our website to learn about fostering at www.fosterdckids.org.
See Some of the District's Waiting Children What about Adoption?
CFSA offers two pathways to adoption from the public child welfare system: foster to adopt and child-specific adoption. Please read the "Important Facts" document below for information about these adoption processes.
Important Facts About Adoption