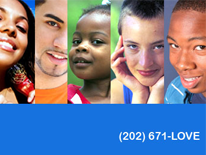 About 1,000 District children and teens are living outside their birth homes under the care of the public child welfare system. Some 100 District youngsters are hoping to be adopted. All these young people deserve to grow up with the security, guidance and support only a family environment provides.
Make a Big Difference in a Young Life
Foster parents provide a safe, nurturing home for children or teens temporarily separated from their families through no fault of their own. Watch the videos of CFSA's Foster Parents of the Year for 2014 and 2015 where they share the challenges and rewards of fostering in their own words. Adoptive parents make a young person's dreams come true through the priceless gift of a new forever home.
It's Easy to Get Started
CFSA continuously recruits, trains and licenses District residents to be foster parents and also trains individuals, couples and families to adopt. The first step is calling (202) 671-LOVE ((202) 671-5683) where a friendly, knowledgeable social worker will speak with you and answer your questions. CFSA has information sessions for prospective foster and adoptive parents every two weeks. Why not invest a couple of hours to explore whether foster or adopting is right for you? To be invited to an upcoming session, please give us a call. Also, visit www.fosterdckids.org.
For facts and answers about the adoption process, read Adopting from the Public Child Welfare System in the District of Columbia. You'll also want to visit our companion website at www.adoptdckids.org.
See Some of the District's Waiting Children
To see some of the District children and youth available for adoption, use these options.
Local NBC affiliate WRC-TV shows young people hoping to be adopted on their weekly "Wednesday's Child" news feature. To see recent segments, visit www.nbcwashington.com and enter the search term Wednesday's Child.
The Heart Gallery features compelling portraits of local children and youth in foster care who are waiting to be adopted. To find out where to see this travelling gallery or to view it online, visit www.adoptionstogether.org/Events/Heart-Gallery/.
CFSA participates in the national resource for adoptable children at www.adoptuskids.org
Learn more about Adoption Month 2017