What is the CFSA Exit to Permanence Roadmap?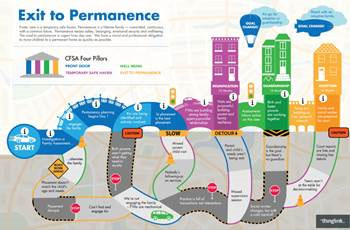 The "Exit to Permanence Roadmap" is a tool to help social workers, supervisors, and managers move families and children to permanence effectively and efficiently.
Each square on the Roadmap represents a step you should take — such as engaging kin or planning purposeful parent-child visits — as you work to achieve permanence for children and youth in care.
When you click on a step, you will drill down to a wealth of information to help you do your work. Supervisory guidance, practice tips, videos, webinars, and instructions for accessing key services are among the supports you'll find embedded in the Roadmap.
CFSA updates resources embedded in the Roadmap regularly, so check back with this tool periodically.
How do I access the information on the Roadmap?
1. Use your cursor to hover over any of the information markers ("i") and see a preview window of what's available at that step on the path.
2. Click on any preview window to open a two-page "Permanency Practice Quick Guide" on the topic. The Quick Guide has key messages and questions supervisors and social workers can use when practice in that area feels stuck.
3. Scroll through any two-page Quick Guide to the "Helpful Resources" section at the end to find links to many resources on this topic.
4. Click around and explore what's available. Or, go to the START square for a full list of the resources that can be found on the roadmap.
Questions? Email [email protected]