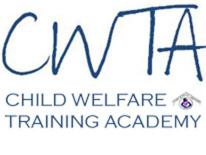 Welcome to the Child Welfare Training Academy (CWTA) -- a one-stop training resource for social workers, support workers, and resource parents!
Child welfare work is challenging. Training can broaden your knowledge, enhance your skills, and refresh your capabilities. Through ongoing professional development, you gain new perspectives while also meeting requirements you may have to maintain your license. Some training is mandatory; both before you take on a new role (pre-service training) and while you are on the job (in-service training). Elective trainings are courses you choose to take to empower yourself. The Child Welfare Training Academy at CFSA has lots to offer to further your professional development. Many courses have CEUs available, and all are free of charge.
To get started:
Select the classes appropriate to your Training Requirements, being sure to include any mandatory training that you must attend.
Review CWTA Training Schedule of Classes to find what's available.
Register for a CWTA Training course.