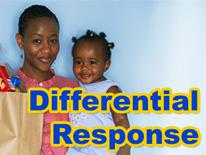 Why One Size Doesn't Fit All
Reports of child abuse and neglect vary widely. Instances of children left home alone or not attending school are very different from children being beaten or sexually molested.
Severe allegations can be a sign of deep trouble in a family. In these situations, it's essential to determine what happened, to identify the victim and maltreater, and to provide intensive help. However, most reports to child welfare agencies, nationally and in the District, concern neglect. These less severe allegations usually indicate a struggling family who will benefit more from a helping hand than a pointing finger.
National Best Practice Fits Response to Need
Child welfare agencies across the nation are aligning their actions with these realities by implementing Differential Response (DR). Under this approach, severe allegations continue to get a traditional investigation. But where a child's safety is not immediately threatened, the alternative approach is a family assessment that looks at strengths and needs and then provides help outside the child welfare system. Research shows that when families participate in an assessment, which is non-adversarial, they are more likely to accept and benefit from helping services. This finding and other evidence of effectiveness have led the American Humane Association and others to endorse Differential Response as a best practice.
CFSA Phases in Family Assessments
In September 2011, the DC Child and Family Services Agency (CFSA) launched Differential Response in the District through a local program called Partnering Together (PT). CFSA Child Protective Services, which has traditionally had only investigative units, added a unit of Family Assessment social workers to manage selected reports via the PT response. Staff at the District's 24-hour hotline for reporting child abuse and neglect use specific criteria to identify reports suitable for PT. As the program phases in, hotline workers are selecting only a portion of eligible reports for the PT response. The goal is to increase response resources gradually so that in the future, all eligible reports can go to the PT pathway.
Local Approach Maintains Safety, Keeps Families Together
Among many benefits of Partnering Together, three stand out:
Child safety continues to be job number one. Under PT, a CFSA Family Assessment social worker evaluates every family to ensure children aren't in serious or immediate danger. If the initial PT assessment indicates safety issues regarding the children, the social worker can switch the family to the traditional investigation pathway.
Tighter coordination among multiple agencies strengthens the safety net. A host of local public and private agencies worked together to plan the District's approach to Differential Response. Under Partnering Together, one of three local agencies takes responsibility for managing the case: CFSA, the DC Department of Human Services, or the Healthy Families/Thriving Communities Collaboratives. An initial Partnering Conferencing brings the family and professionals together to confirm which entity will take the lead. Families have access to a broad array of services through all three entities as well as other local public and private agencies.
Families stay together and get the help they need without entering the child welfare system. PT is one of several early intervention strategies CFSA is using to help families stay together safely.
Goals
Maintain child safety
Offer selected families the help they need while they stay together and out of the child welfare system
Improve partnerships among public and private agencies offering basic helping services to families