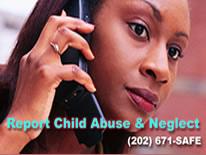 CFSA takes reports of child abuse and neglect 24 hours a day, seven days a week at (202) 671-SAFE or (202) 671-7233. This hotline is the gateway to protection and help for child victims and those at risk up to age 18 in the District of Columbia.
You can help
Sometimes, people fear that reporting child abuse or neglect will destroy a family. The truth is that getting help can protect children from further harm and assist the family in overcoming problems. Your call to the District hotline at (202) 671-SAFE or (202) 671-7233 is confidential. When you call, a trained hotline worker will ask you for:
The name, address, age, and gender of the child.
Who is caring for the child and whether other children live in the home.
The nature and extent of the abuse or neglect, as you know it—and any previous abuse or neglect you know about.
Any additional information that may be helpful.
Friends, neighbors and other community members can help to protect child by being aware and working together. Learn the warning signs of child abuse and neglect. Get helpful tips on responding when a child victim confides in you. Find out what happens after CFSA receives a report of child abuse or neglect.
Mandated reporters must call and can take free training online
Some people in specific professions are called mandated reporters—people DC law requires to report whenever they know or suspect a child is experiencing abuse or neglect. Because these individuals regularly work with children, they are often the first to see signs of maltreatment. In DC, people in the following professions are mandated reporters:
Athletic coaches
CFSA employees and contractors
Child care workers
Chiropractors
DC Parks and Recreation employees
Dentists
Domestic violence counselors
Human trafficking counselors
Humane officers (animal cruelty)
Law enforcement officers
Medical examiners
Mental health professionals
Nurses (LPNs and RNs)
People caring for or treating patients
Physicians
Psychologists
Public housing resident managers
School officials
Social service workers
Teachers
DC mandated reporters can take free training on line at dc.mandatedreporter.org. The comprehensive course covers your legal obligations, types and signs of child abuse and neglect, when and how to report, and other important topics.
Office Hours:
Monday to Friday 8 am to 4:45 pm